by

Andrea Patnode

Dec 31, 2016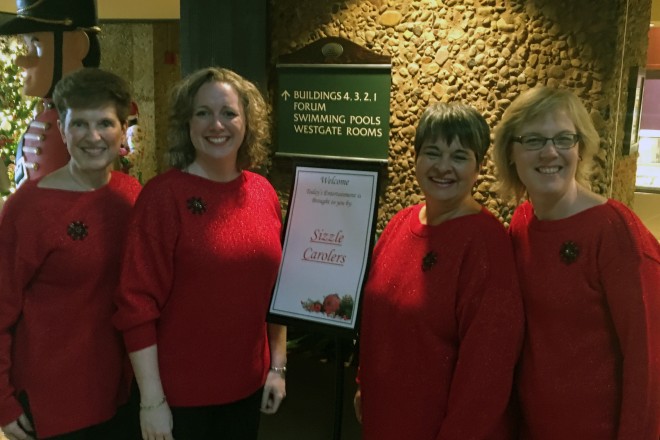 Sizzle! enjoyed some fun performances this past holiday season!
First, they hit the road for Lake Geneva on Thanksgiving weekend, to perform "walk-around style" at the Grand Geneva Resort & Spa.  The resort was beautifully decked-out for the holidays both inside and out, with magnificent panoramic lighted scenes overlooking the landscape.  Children were lined up all afternoon for visits with Santa and Mrs. Claus, and several wedding parties were celebrating as well.  The quartet kept on the move for the entire afternoon, singing to guests in the foyer, lounges and dining areas.
Then on the first Saturday of December they teamed up with Heart of Harmony chorus – a local chapter of the men's Barbershop Harmony Society – for a holiday performance "marathon".  Starting at 8:30am, they traveled to 6 local senior residence facilities, performing a 30 minute set every hour on the hour!  At the halfway mark all the singers enjoyed a fine lunch break together at Mo's Irish Pub in Wauwatosa.
Finally, on a very snowy day in mid-December they spread holiday cheer to the residents of Cecilia Place in Pewaukee. They again entertained residents and their visiting families in "walk-around style", in the beautifully decorated lobby and dining rooms.
Sizzle! wrapped up their holidays with a lovely quartet dinner at the Lone Star Bistro in Brookfield, immediately following the Cecilia Place performance. Other diners and the wait staff were intrigued by their sparkly red matching sweaters so of course they had to break into song a few times!  It's a fine thing to celebrate music and friendship together at the close of the year!
Please consider Sizzle! for your next special gathering or event!   For further information, contact the quartet at [email protected] or call Linda Marzocco at 414-702-7191.
---