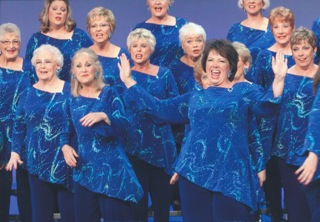 Kari's love of barbershop is evident every time she steps in front of the chorus. Her energy is contagious, her joy overflowing and her ever present smile lights up the stage.
Beginning at age 3 and continuing through college, dance and piano lessons were routine. Singing in school and church choirs is a family tradition and has continued throughout her life.  Kari joined Sweet Adelines in 2002 and has been an irreplaceable member of Crosstown Harmony Chorus since January 2005.
Throughout Kari's musical journey, she has climbed the ranks and held positions within the chorus as Associate Director, Assistant Director, Lead Section Leader, Co-Director, Interim Director and in 2015 became the Certified Director of Crosstown Harmony Chorus.
Quartet singing has also been an educational and very fun part of Kari's Sweet Adeline life. She has been a quartet member for the groups Malarky, Noted and Cool Beans. Throughout the years, she has competed with these quartets at Regional competitions and they have won numerous awards.
She still is very active with her various church and community choirs as member, director and musician. Kari teaches piano lessons and directs both a junior high aged choir as well as a senior aged choir during the school year. Kari is married to her high school sweetheart, Andrew and they are proud parents of 3 daughters.  Their oldest daughter, Maren, also sings with Crosstown.
With her unwavering enthusiasm, commitment and love for the chorus, Kari never fails to bring out the best performance in each musician with whom she works. Crosstown Harmony looks forward to our continued journey of musical excellence with Kari as our fearless leader!