by

Andrea Patnode

Dec 31, 2016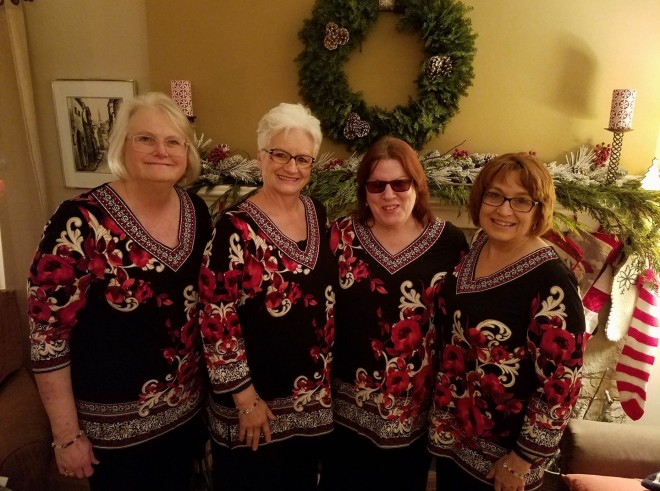 To The Max had a busy holiday season!
They had the privilege of singing at the Zilber Hospice Angel Tree Memorial Service. Since Judy was called away to nurse one of her sons back to health, they enlisted the talents of our friend, Christine Krause, to take over as their Lead-For-The-Day. They sang a couple of carols, then hummed "Silent Night" while the chaplains and other Zilber dignitaries read the names of those patients who passed away during the last year. A very moving and beautiful service. Christine enjoyed the quartet experience as well.
They also entertained the members of the New Berlin Lioness Club with a full Christmas program, including a sing-a-long. The highlight was when Deb, their lovely bass, did a show-and-tell presentation of her digital scanner. It's a device that reads bar codes, so she is able to find items in her pantry, and was obtained, with the help of our chorus friend Audrey Juds who is a Lioness member, through the generosity of the Lions and Lionesses Clubs. The members there were very fascinated with the device, and were happy to see concrete evidence of their good work.
Their season concluded with a quartet + 1 dinner at Deb's home, since Christine was their "spare lead". They enjoyed Chinese food and homemade blueberry pie. A perfect ending to the holiday season.
To hire To The Max for your next event contact [email protected] or Toni at 414-573-1185.
---