by

Andrea Patnode

Aug 08, 2022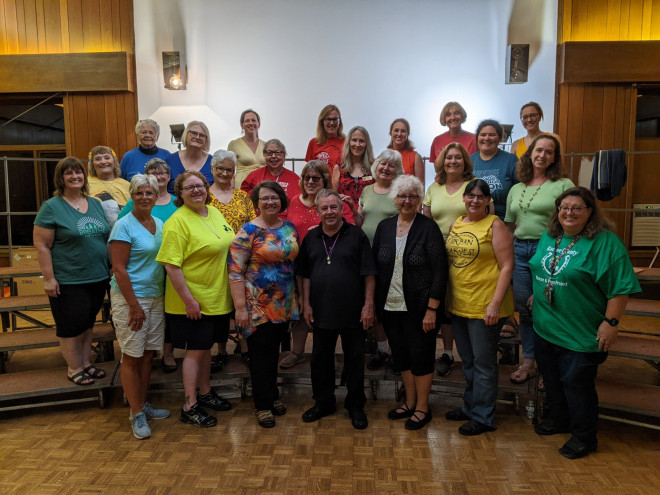 On Monday, August 8th we had the honor of learning from Master Director 700 Jim Arns!
Jim Arns has directed the Melodeers Chorus since 1988, and is one of an elite group of directors to receive the Master Director 700, created in 2009 by Sweet Adelines International to honor musical directors whose choruses score 700 points or more (out of a possible 800) in Regional Competitions.
In a recent article in The Pitch Pipe, the official magazine of Sweet Adelines International, Jim described his philosophy regarding the chorus: "As I prepare every week for rehearsal, I want each chorus member to have an intense, rewarding and fun experience. We gather each week to make the best barbershop sound we can, using and building our vocal skills, and having artistic abandon in making the printed page of music come alive through musicianship and showmanship. I want each Melodeer to experience Wednesday night as the highlight of their week." Jim also serves as principal arranger for all Melodeers repertoire, including those featured on their recordings.
Jim has shaped the Melodeers trademark rich harmonies and distinctly energetic sound by setting a high musical standard at each weekly rehearsal, always challenging members to improve. He is never satisfied with one good run-through of a song. If they sing it well, energetically, emotionally, Jim always asks them to sing it again—even better. Learning to be better singers is a never-ending process in which each member is encouraged to reach higher.
In addition to directing the Melodeers, Jim enjoys an international reputation as a clinician, vocal coach, and music arranger. Although he serves as faculty at numerous regional and international symposia and travels extensively nearly every week of the year, he is "at home" each week to rehearse the Melodeers.
Jim Arns earned a Bachelor of Music degree at Benedictine University, and a Masters degree in Music from Northwestern University.
We are blessed to have this amazing opportunity to learn from this accomplished director, coach and educator.
---