by

Andrea Patnode

Dec 20, 2021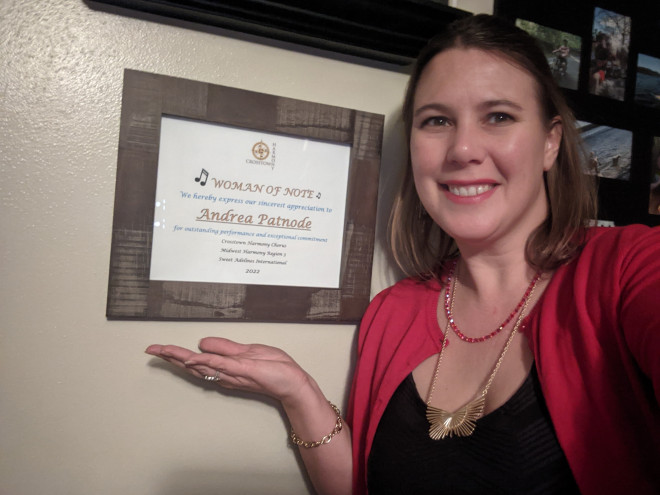 Our 2022 Woman of Note has been a member of Crosstown Harmony and SAI for a relatively short while—6 years.  But in those six short years, she has taken the Sweet Adeline mission, vision, and guiding principles to heart, especially during our last two difficult years.   
Within months of her joining Crosstown Harmony, she shared her considerable skills and talents in many ways.   She embraced the Sweet Adeline style of singing well enough to quickly become a front row singer.  She takes time from her job to attend performances, helps at the Oz Fair, became a member of the Admin Team, and even took over organizing the pizza sale fundraiser.  And she makes it look so easy! 
Her positive attitude and great ideas have been a great help in keeping up member morale the last year particularly.  As our resident technical guru, she launched our Zoom meetings and rehearsals for most of the year, and always has a smile and encouraging word.  As part of the Admin Team, she maintains and monitors our Crosstown Harmony website, sends out the Weekly Reminders, takes and collects photos for our chorus archives, and communicates with anyone interested in Crosstown Harmony Chorus.   She is a constant help with the Admin Team, and most recently spoke my words at our recent Friends and Family show, not to mention having her significant other become St. Nicholas! 
Congratulations to our 2022 Woman of Note, our wonderful Communications Coordinator, Andrea Patnode! 
---