by

Andrea Patnode

Jun 08, 2017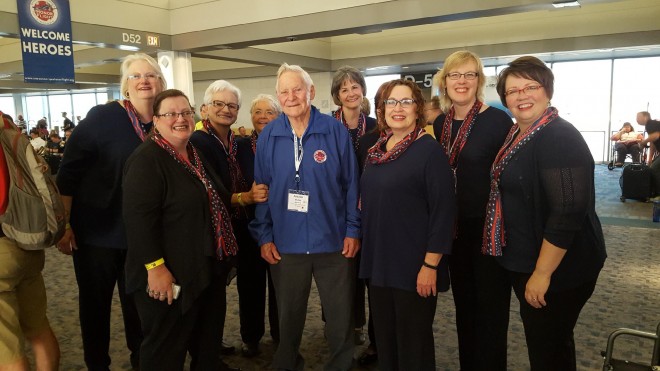 Crosstown Harmony Chorus is honored to have been invited to perform the morning of a Stars and Stripes Honor Flight. The mission of Stars and Stripes Honor Flight is to honor all veterans by flying WWII, Korean, and Vietnam war veterans, as well as terminally ill veterans from other conflicts, to Washington, DC to visit their memorials. They also actively promote educational aspects of this mission in our schools and our communities. For more information on this organization, please visit their website http://www.starsandstripeshonorflight.org/.
Our Crosstown performance group was: Joan & Toni (tenor), Ann Marie & Judy (lead), Beth & Sarah (bari), and Deb & Pam (bass) - directed by our ever-lovin' Kari.  We were all at Mitchell by 5:30am, and did our singing from 5:45-7:00am.
Our volunteer guide told us: 76 veterans took the flight today, and that this was the 40th honor flight to be taken from Milwaukee.  In total about 5000 veterans have participated in these Milwaukee flights.  They fly to Washington DC & back on the same day, visit Arlington Cemetery for the changing of the guard, then visit the various war memorials (WW2, Korea, Vietnam).  While in DC they travel in a bus with a police detail so that they can travel directly through traffic lights just like emergency vehicles.  They receive several meals while in transit. Each veteran is accompanied by someone for the whole trip.  At Mitchell airport there were many, many volunteers guiding the veterans throughout the facility - all in bright fluorescent yellow T-shirts and easy to spot, everyone all smiles and welcoming.
Crosstown performed right at the flight gate.  We sang the Star Spangled Banner 2 separate times, as they had the veterans staged in 2 groups to board the plane.  There were flag bearers at attention on either side of us for the national anthem, and a long line of the veterans stretched out before us on the concourse.  As soon as we began singing, the entire concourse went silent and veterans had their hands over their hearts. We held our final chord nice and long, and everyone broke into applause and cheers as we finished the chord.  We then stepped aside as the veterans began boarding.  We sang more songs casually off to the side, including God Bless America, Gospel Medley, Ain't He Sweet, Making Our Dreams Come True, and One Fine Day.  To The Max also sang Java Jive, Sentimental Journey, and Chattanooga Choo Choo. Plus we sang Happy Birthday to one of the flag bearers.
Honored to do this!  Thank you to everyone involved in the arrangements!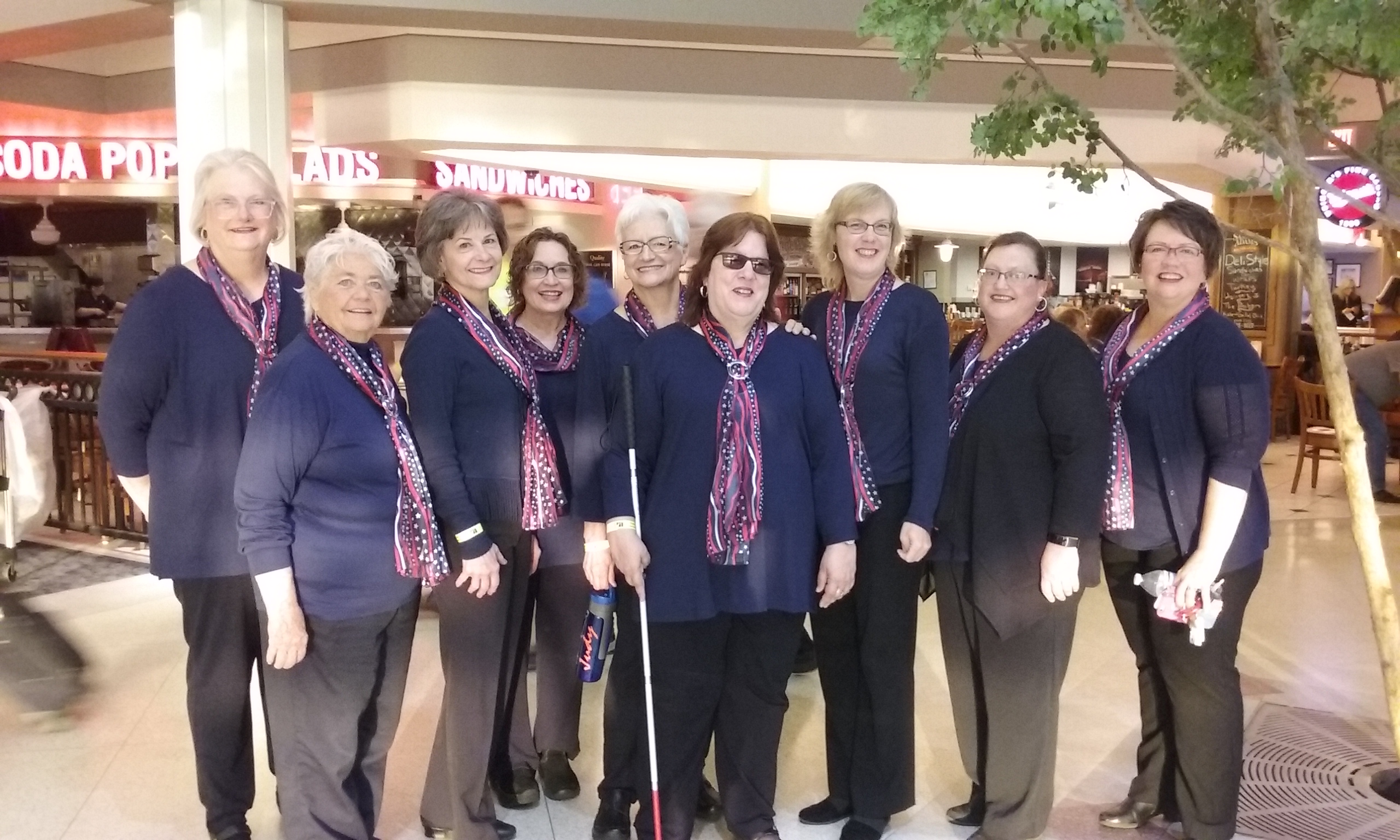 ---